News
Robbie Williams to return to US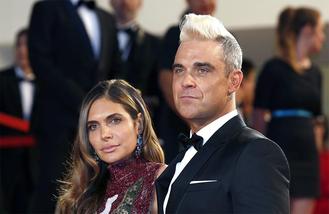 Robbie Williams wants to crack America.
The 'I Love My Life' hitmaker is plotting a move back to the US and this time he wants to become famous across the pond as when he previously lived in Los Angeles with his actress wife Ayda Field, 37, and their children - four-year-old daughter Teddy and two-year-old son Charlton - no one recognised him on the street, let alone his music.
He said: "Nobody knows who I am. I can look at them and they can look at me.
"I get to stare at them and they get to stare at me, but they don't stare because they don't know who I am,.
"I don't like this. I want this to change."
The 42-year-old hunk last attempted to make it in the States in the 90s, but failed miserably, and the on-and-off Take That star admits at the time he was struggling with fame and everything that came with it, but he now "regrets" not attempting to make it out there.
He told the Daily Star newspaper: "Back in the 1990s when I went out there to promote my album I was not really dealing with fame very well at all - if I am honest I was not really dealing with much very well.
"It was when I realised that the more fame I got, the more insane I became.
"So I just stopped as I needed a place where I was not famous, because that would be the most sane thing to do.
"So I just lived over there and nobody knows me."
"Now I have changed my mind and I really regret it."
Source: www.msn.com
Added by AutoAdmin
348 views