News
Gigi Hadid: 'I couldn't play it cool with cute Zayn Malik!'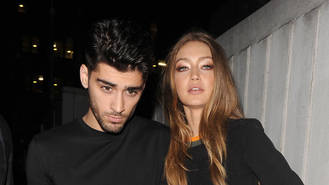 Gigi Hadid was unable to play it cool for longer than 10 minutes on her first date with Zayn Malik.
The stunning model has been dating former One Direction singer Zayn for a year and a half. They first met at a friend's birthday party and hit it off immediately, which lead Gigi top hope he might make an appearance at the Victoria's Secret fashion show that year, but Zayn didn't show up.
However, they later got back in touch and went out on a first date, with Gigi saying during an interview on The Ellen DeGeneres Show on Friday (10Feb17): "We played it cool for about 10 minutes. Then I was like, 'You're really cute.' We connected really quickly. We kind of have the same sense of humour, and just started sharing videos."
Gigi's revelation came after she told Entertainment Tonight last November (16) that neither she nor Zayn had gone on a first date before they went out with each other.
"I met him once before and he is obviously so gorgeous, but really the way we could have conversations and kind of just…we're really interested in the same things, so it was really easy," she said. "So that was amazing."
Appearing on Ellen was something of a bucket list item for Gigi, who revealed that when she moved to New York she wanted to "have a Vogue cover, I wanted to be on Food Network and I wanted to be on Ellen."
She starred in Masterchef, which fulfils her Food Network dream, and failed to stop smiling as she was interviewed by Ellen, and has also pulled off the Vogue cover goal in incredible style.
Not only did Gigi land a Vogue cover, she has actually been on the cover of 20 Vogue magazines to date. The record is currently held by Lauren Hutton, who has 26 Vogue covers, and Gigi hinted she's keen to break that and get to 27.
"I love Lauren, I can't beat her in any way. But I wouldn't complain (if I did get 27)," she laughed.
Source: www.msn.com
Added by AutoAdmin
286 views