News
Mick Jagger forgot he wrote a secret memoir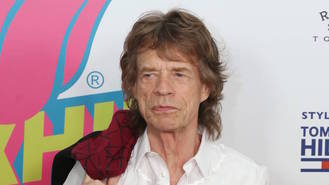 Rolling Stones rocker Mick Jagger wrote a 75,000 word autobiography and then forgot about it.
Writing in British magazine The Spectator, book publisher John Blake reveals that three years ago he was handed a manuscript written by Mick in the early '80s.
After receiving the memoir, John wrote a letter to Mick asking if he could publish his recollections, but although the rock icon acknowledged it was his work he told him he had forgotten putting pen to paper.
"Mick's delightful manager, Joyce Smyth, responded encouragingly to my letter," John writes. "Mick could not remember any manuscript. Please could I show it to him? Once he saw it, he asked if he could write a foreword to establish that he wrote this story long ago and far away."
According to the publisher, the unseen tome contains details of how Mick bought Stargroves, a stately home in Hampshire, England while high on LSD.
Explaining how Mick came to forget that he had written his memoir, John explains that he was given a $1.25 million (£1 million) advance for his book by late British publisher George Weidenfeld.
He assumed the Sympathy for the Devil singer had handed back the money as he was unable to remember anything about his rock and roll lifestyle, until the manuscript turned up three decades later.
"I thought that was the end of the story until three years ago, when a mutual friend handed me a pristine typescript Mick had written," John explains. "I was dumbfounded."
The publisher reports that he was close to securing Mick's agreement to publish the book, but that after the tragic death of Mick's girlfriend L'Wren Scott in 2014 the rocker decided not to pursue the project.
"It seemed we were there," he explains. "But then, as is the way with the Rolling Stones, life took over. There was a tragic death, a tour, a film, a TV series, the Saatchi exhibition."
He adds that when he tried to get Mick to decide whether to publish he, "wanted nothing further to do with this project".
Source: www.msn.com
Added automatically
705 views