News
Rag'n' Bone Man doesn't have 'perfect voice'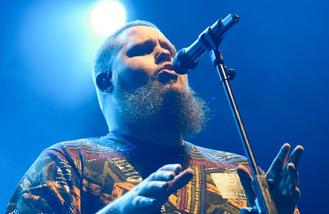 Rag'n'Bone Man doesn't have the "perfect voice."
The 'Human' hitmaker - real name is Rory Graham - may be this year's recipient of the Brits Critics' Choice Award, but he believes he still has a lot of work to do on his vocals because he was never trained by a coach and picked things up as he went along.
Speaking on Beats 1 radio station on Wednesday (15.02.17) night, he said: "I don't have a perfect voice, it is rough around the edges, and I didn't have training, so certain bits to other people might sound a bit here and there, a little bit because, I don't know harmonies or stuff, I have to learn everything by ear, and I'm constantly learning when I'm doing stuff. So I will probably listen back to it in 10 years and go, well, I could have done better on that, but it's a representation of me right now."
However, the 32-year-old singer must be doing something right as Sir Elton John got hold of his number and rang him up recently to tell him how much he likes his music.
He explained: "He called me up on the phone, he's Elton John, he can get anyone's number. He wanted to call me to tell me how much he liked my music, which I thought was really nice coming from one of the best song writers of all time, he didn't have to do that, it made my day. Yes Elton."
Prior to his success, the 'Skin' hitmaker was making ends meet by working long hours as a carer in Brighton, East Sussex, when he got a phone call one day from Mark Crew - a longtime friend, who worked on Bastille's debut LP 'Bad Blood' - who offered him the chance to make his own record at his London studios.
He said recently: "I'd started recording with a producer friend of mine called Mark Crew who believed in me so much that he paid my rent for three months.
"I was working as a care worker at the time and the people there were great but it was long hours and I couldn't go to play a festival in Cornwall then get back in time.
"Something had to give and then I got a publishing deal, which helped me."
Source: www.msn.com
Added by AutoAdmin
287 views