News
Lady Gaga had a 'cuddle buddy' for Super Bowl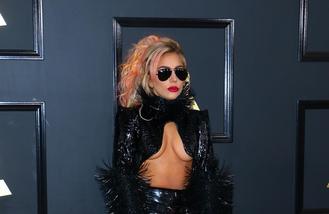 Lady Gaga had four masseuses, an eyelash monitor and a "cuddle buddy" for her dog on hand at the Super Bowl.
The 'Million Reasons' singer put on a spectacular show at the NFL showpiece game earlier this month, and her stress levels were kept low ahead of the performance by having a team of experts on hand to attend to her every need.
A source said: "It takes a village to keep Gaga looking and feeling her best especially during a high pressure performance like the Super Bowl.
"She had her usual entourage of 25 people with her, but most of them were there just to pamper her.
"At least 10 of them were her glam squad, including a false eyelash specialist, who was simply there to monitor her lashes.
"On top of that, she had four masseuses following her around. Any time she sat down they began dutifully rubbing her.
"Another person was there to de-shine Gaga's brow - mopping her face during the quick wardrobe changes - while someone else reapplied that glittery foundation with a sponge.
"Even her bulldog Koji had a specially assigned cuddle buddy. She didn't want her baby feeling neglected, so someone was there to pet, feed, and talk soothingly to the dog."
And the 30-year-old singer had an "army" of assistants on hand from the minute she woke up in order to help her up and around.
The source added to heat magazine "Even before she got out of bed on the day of the show, she had an army of assistanta preparing things.
"They propped her up among the pillows and sheets with her sleeping dog at her feet for promo photos.
"At the venue, she needed someone nearby at all times to pull her up off the turf during another photo shoot.
"She was wearing a high-split skirt with a very unruly train before the show, and one assistant's role was to unravel the material whenever it was needed."
Source: www.msn.com
Added automatically
625 views