News
Tributes flood in for rock legend Chuck Berry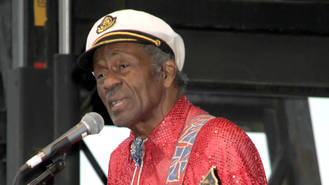 Mick Jagger, Ringo Starr and Bruce Springsteen have paid tribute to legendary rocker Chuck Berry.
Police in St. Charles County, Missouri responded to a medical emergency at his home on Saturday (18Mar17), where the 90-year-old star was found unresponsive. Officers tried to revive him, but he was subsequently pronounced dead.
The rock pioneer was behind such hits as Johnny B. Goode, Maybellene, Roll Over Beethoven, My Ding-a-Ling and Sweet Little Sixteen, and paved the way for artists including The Rolling Stones, The Beatles, The Beach Boys, Jimi Hendrix and David Bowie.
Stars took to social media to pay their respects to the icon, with Springsteen writing on Twitter, "Chuck Berry was rock's greatest practitioner, guitarist, and the greatest pure rock 'n' roll writer who ever lived."
The Rolling Stones called Berry a "massive influence", and frontman Jagger wrote a personal note of thanks to the rocker on Twitter, alongside a snap of himself and Berry in the 1960s. "I am so sad to hear of Chuck Berry's passing. I want to thank him for all the inspirational music he gave to us," he wrote.
"He lit up our teenage years, and blew life into our dreams of being musicians and performers. His lyrics shone above others & threw a strange light on the American dream. Chuck you were amazing&your music is engraved inside us forever."
Starr wrote, "R I P. And peace and love Chuck Berry Mr. rock 'n' roll music," while Lenny Kravitz credited Berry for kick-starting rock and roll. "Hail Hail Chuck Berry!!! None of us would have been here without you. Rock on brother!" he posted.
British rock icon Rod Stewart said Berry "inspired us all. The 1st album I bought was Chuck's "Live at the Tivoli" and I was never the same," and country rocker Keith Urban quoted Johnnie B. Goode. "RIP Chuck Berry !!!! Thank you for the poetry, the passion and the potency! GO JOHNNY GO," Keith wrote on Twitter.
Singer John Mayer shared his love for Berry on Facebook, writing, "Legend. Architect. He built the tools that built the house. Rock on forever. #RIP Chuck Berry."
Arnold Schwarzenegger, who was born in Austria, thanked Berry for being the soundtrack to his dream of moving to America. "When I was 10 years old and I dreamed every night of moving to America, Chuck Berry played the soundtrack. He rocked the world. RIP," the actor fondly recalled on Twitter.
Source: www.msn.com
Added automatically
597 views