News
Ed Sheeran made James Blunt uncomfortable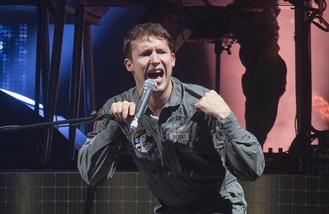 Ed Sheeran made James Blunt feel "uncomfortable" when they wrote songs together.
The 26-year-old singer is a co-writer on the 'You're Beautiful' hitmaker's new album 'The Afterlove' and James, 43, had never written material from such a personal point of view until his friend pushed him to go deeper with his feelings.
Discussing 'Make Me Better', a song about James' wife Sofia Wellesley, the 43-year-old star told the Daily Telegraph: "It's a song I'm uncomfortable with for that reason. Ed said 'Come on, it's your job, you veil a lot of things', for that reason it was great to work with him.
"He is so open and he dragged me into that space."
Meanwhile, James recently claimed he and the 'Shape of You' hitmaker made up the story that Princess Beatrice accidentally sliced Ed's face with a sword.
The pair hit the headlines in November when it was reported that 'Castle on the Hill' singer had been struck in the face with a sharp weapon by the royal as she was pretending to 'knight' fellow musician James at a party at the Royal Lodge in Windsor.
But the 'Goodbye my Lover' singer has now claimed they fabricated the story in order to cover up the fact that Ed had simply cut himself whilst drunk.
He said: "Ed was drunk, messing around, and he cut himself. We made a fancy story up; people fell for it. It was very embarrassing."
And asked how much of the story involving the 'Sing' hitmaker and 28-year-old Beatrice was made up, James said: "All of it!"
Ed has also refused to comment on the subject in the past, after claiming he wasn't sure if he was allowed to talk about it.
He said in January: "Yeah... there's... I don't know if I can talk about that, you know."
Source: www.msn.com
Added automatically
723 views