News
Fleetwood Mac's fareweull tour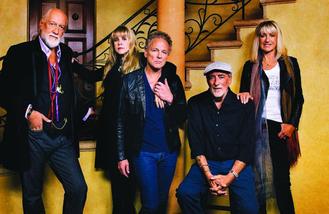 Fleetwood Mac will embark on a "farewell tour" in 2018.
The 'Rumours' hitmakers are planning a last global jaunt to say goodbye to their fans next year, but even the members of the band are unconvinced they're going to be bowing out.
Christine McVie said: "The 2018 tour is supposed to be a farewell tour but you take farewell tours one at a time.
"Somehow we always come together, this unit. We can feel it ourselves."
The line-up of the group - which typically comprises Christine, her ex-husband John McVie, Mick Fleetwood, Lindsey Buckingham and Stevie Nicks - has changed over the years with certain members leaving for periods of time, but the singer admits there is always something that draws them back together.
She said: "We're all guilty of parting company in this band for a while. It just seems to happen. But it's that umbilical cord that can't be broken. It just pulls you back...
"It's that invisible chain. It's that alchemy. I love every minute of it. This is what I want to do. It's what I want to invest my time and my future in from now on, so I won't leave again."
And her bandmate Lindsey is surprised they have stayed together for so long because they never "belonged" in the same group in the first place.
He told Uncut magazine: "Why are we even still together as a band? It's crazy. This group of people didn't belong in the same band together in the first place, but here we are, 40 years later.
"There have been all of the breakups and all that stuff, but there's a lot of love underneath."
The two musicians have collaborated on an album together, 'Buckingham McVie', but insist that it won't be an ongoing project for them away from the band.
Christine said: "It really is a finite project. It's not a career move. It's just a nice splinter off the main artery of Fleetwood Mac."
Source: www.msn.com
Added by AutoAdmin
318 views