News
Lily Allen's new album 'will focus on marriage breakdown'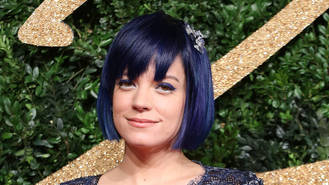 Lily Allen has said her new album will focus on her marriage breakdown and struggles with substance abuse.
The 31-year-old married builder Sam Cooper in a star-studded ceremony in 2011, and the pair went on to have two daughters together - Ethel, five, and Marnie, four.
However, they reportedly split in 2015, and now Lily is set to open up about what went wrong in their relationship, MailOnline.com reports. She will also reflect on her issues with substance abuse, and her role as a mother to her two girls.
"Weirdly, this album is quite insular. Mainly it's to do with me and my relationship with my children, the breakdown of my marriage, substance abuse etc," she told the News Roast podcast.
The Smile hitmaker collapsed while at Notting Hill Carnival in London last summer (16) after she allegedly suffered from an extreme reaction to smoking cannabis.
During the interview, she also spoke about her new boyfriend, DJ Dan London. "If we got married, I'd be Lily London," she joked.
Lily, who has become increasingly involved in political debates on social media, also said her upcoming new album would feature messages about the current U.K. government.
"It's quite difficult to deliver a political message without sounding really preachy and earnest, and have a catchy pop melody at the same time. I have done it, twice, on this record, so look forward to it," she explained.
The singer has been involved in bitter debates on social media, and announced last month (Feb17) she was taking a break from Twitter following a series of abusive remarks.
"My timeline is full of the most disgusting, sexist, misogynistic, racist s**t," the Grammy nominee said after some comments from users focused on her giving birth to a stillborn son in 2010. "Really, new levels. I'm no masochist so I'll be back."
Lily lost her son following a painful labour six months into her pregnancy, and revealed she suffered from post traumatic stress disorder after the tragedy. The London native, who was expecting the baby boy with her then-husband Sam, was due to give birth in early 2011.
Source: www.msn.com
Added by AutoAdmin
364 views