News
Foo Fighters will record 'when time is right'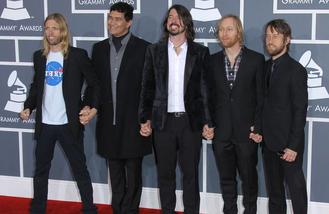 Foo Fighters will make a new album "when the time is right".
The 'Walking After You' hitmakers are expected to spend a lot of time in the recording studio working on the follow-up to 2014's 'Sonic Highways' over the coming months, but guitarist Chris Shiflett insists they don't have any definite plans in place.
He said: "I don't know what our plans are, but we'll make a new album when the time is right.
"There will be a new Foo Fighters [record] at some point."
Last week, the group announced they will be headlining Glastonbury in June - two years after they pulled out of the iconic festival after frontman Dave Grohl broke his leg - at a secret intimate gig in nearby Frome, Somerset, and they had a great time at the tiny show.
Chris told NME magazine: "It was great, the show was really fun."
And while they were in the region, the 'Best of You' hitmakers got the chance to visit the nearby festival site, at Worthy Farm, and are now looking forward to their headlining slot more than ever.
Chris said: "You get an interesting sense of the size of Glastonbury because it's completely empty. I can't wait to see what it looks like full of people and we're there to compare it.
"Can you believe that I've never been to Glastonbury - ever? It's like the one festival that I've still never been to, so I'm looking forward to it. I've never had the Glastonbury experience."
During the gig in Frome, Dave claimed the bad had requested space on the bill for an extra-long three-hour set and Chris confirmed they were up for the mammoth show.
He said: "Absolutely we could, you never know!"
Drummer Taylor Hawkins previously admitted they don't know when they'll record a new album until they hear from their singer.
He said: "We will make a new record at some point. We won't really be ready until Dave's ready to go. It's on the books, so we'll definitely be playing. We never really know, we just wait for a text from Dave saying 'hey, let's go down to the studio."
Meanwhile, Radiohead are also officially confirmed to headline Glastonbury, while Ed Sheeran is expected to take the third slot.
Source: www.msn.com
Added automatically
698 views