News
Zayn Malik invests in mum's new beauty salon business - report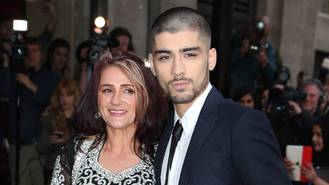 Zayn Malik is reportedly helping his mother Trisha to launch a beauty salon in his home city.
Former dinner lady Trisha shared with her Instagram followers on Thursday (02Feb17) the venture was going ahead, and detailed what treatments she'll be offering, including Zayn's sisters Doniya and Waliyha's lash range.
"Hey guy I have a little announcement to make," she posted. "We are going to be opening up a beauty salon in Bradford we will be doing: spray tans, acrylic nails, manicure, pedicure, tinting, eyebrows, eyelash lift, waxing and of course hair and make up.
"We will also be selling a variety of clothes and our Daliyha Lashes. Can't wait to see all you guys there on the opening day yet to be announced. Coming very soon. Inshallah."
Sources tell British newspaper The Sun that ex One Direction star Zayn fully supports his family's new business, and is happy to invest his money.
"Zayn is putting up the cash because he reckons it is a sound business idea," an insider shared. "The family hope that this will be the first of many in the area and hopefully across the country.
"Zayn may be an international superstar, but he is incredibly close to his family and will do anything he can to help them."
The former One Direction singer grew up in Bradford, in the North of England, with his family. Trisha, who converted to Islam when she married Zayn's father Yaser, has accompanied Zayn numerous times on the red carpet, including to the 2015 The Asian Awards.
His older sister Doniya has followed a career in fashion blogging, and the source adds Pillowtalk singer Zayn is confident in her abilities.
Source: www.msn.com
Added automatically
584 views