News
Adele helps gay fans get engaged onstage in Australia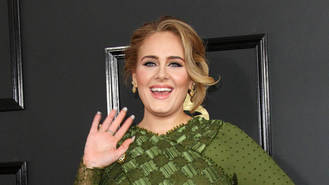 Adele was left overjoyed on Sunday (19Mar17) after helping a gay couple become engaged during her concert in Melbourne, Australia.
The British soul superstar spotted a man called Chris crying as she belted out her hit ballad Hello at the Etihad Stadium, and decided to invite him and his partner Wade to join her onstage.
However, the unexpected meet and greet turned into a surprise proposal, as Wade seized the opportunity to get down on one knee and pop the question to his boyfriend.
Chris said yes, prompting cheers from the crowd, as Adele gave them both big hugs.
"That wasn't planned," Adele insisted, adding, "I had no idea."
According to The Herald Sun, the singer had chosen the fans at random after forgetting to have signed letters placed under various seats at the venue, something she has been known to do in the past to express her gratitude to her devotees.
Adele's tour has become a popular place for fans to propose. During her gig in Denmark last year (16), two male attendees became engaged, and the star jokingly offered to become a surrogate mother to help the Swedish couple start a family.
"Should I be your surrogate if you have children? I'd love to have a baby with someone Swedish," she joked to the audience.
Another man at one of her London shows also made the mother of his child his new fiancee as Adele performed Make You Feel My Love, which they subsequently revealed was a special tune for the couple.
Calling for the newly-engaged pair to join her onstage, she gushed of the romantic gesture, "That was one of the most beautiful things I've ever witnessed at one of my shows. Thank you so much for doing that."
Fans also popped the question during Adele's other 2016 tour stops in Belfast, Ireland, Zurich, Switzerland, and Barcelona, Spain.
Meanwhile, the hitmaker herself recently confirmed her own marital status at a concert in Brisbane, Australia earlier this month (Mar17), revealing she had secretly wed her longtime boyfriend Simon Konecki, the father of her son Angelo.
The famously-private couple had reportedly become engaged in October (16) and is believed to have exchanged vows in Los Angeles over the Christmas (Dec16) holidays.
Source: www.msn.com
Added automatically
584 views