News
Lauren Jauregui: 'I never dated Camila Cabello'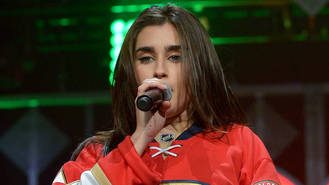 Lauren Jauregui has lashed out at gossip suggesting she briefly romanced her former Fifth Harmony bandmate Camila Cabello.
The rumours reared up again earlier this week (ends24Mar17) when sexy photos of the bisexual singer and her girlfriend Lucy Vives were posted online.
Some fans claim Lauren's romance with model Vives drove a wedge between her and Camila and led to Cabello quitting Fifth Harmony in December (16), but now Jauregui is fighting back, insisting she and her former bandmate were never that close.
"I hate it because it's invasive, scary, delusional, disrespectful to us both and was never real... Ever," Lauren tweeted, according to Latina.com.
She later added: "you never quite become ok with people sexualizing you and your friendships for their sick pleasure."
It is unclear exactly what Lauren's current relationship with Vives and Cabello is - reports suggest the singer and Lucy are no longer an item, while others hint at the fact Jauregui and Camila have remained close following the Bad Things singer's split from the band.
Cabello recently spoke out about her departure from Fifth Harmony, revealing she grew tired of the way she was sexualised in the girl group.
During an appearance on Lena Dunham's podcast in January (17), the 20-year-old admitted she could never get used to the idea she was a sexual object in the band.
"There's been a lot of times where people have tried to sexualise us to just get more attention," she said. "Unfortunately, sex sells. There's definitely been times where there's stuff that I have not been comfortable with and I've had to put my foot down...
"I feel like it's been tricky because we've had to grow into ourselves while being in front of the world and while making songs that did have a lot of sexual undertones."
Source: www.msn.com
Added by AutoAdmin
357 views