News
Glen Matlock teases new single and album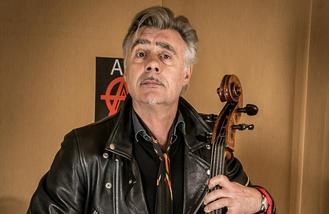 Glen Matlock has a new album on the way featuring a member of David Bowie's band on the lead single.
The former Sex Pistols bass player has been busy working new music and has teased that a new song will be released in the coming months featuring Slim Jim Phantom from Stray Cats on the drums, and a mystery member of the late 'Life on Mars' hitmaker's group.
Speaking exclusively to BANG Showbiz, he said: "I've got a new single coming out in about a month's time, which I am going to be putting out. It's got a fantastic band on it. I've got Slim Jim Phantom from Stray Cats playing drums and someone from David Bowie's band playing on it. It's real pukka stuff.
"So I am trying to do something new, I don't like living in the past."
The 60-year-old rocker has launched a campaign on Pledge Music where fans can buy exclusive signed items to pay for the record, which will be his first since 2013's 'Rattle Your Cage: The Best of Glen Matlock & The Philistines'.
Of the LP, he added: "I've got a whole album of stuff, I've got a Pledge campaign going and we are going to put the single out. I am always touring."
Matlock was speaking in promotion of a new Operatic punk album by the Royal Philharmonic Orchestra, 'The Anarchy Arias', which he has co-written two tracks on.
However, he admitted though he likes the orchestra's work, he's not sure about the punk songs being sung in an operatic style.
He admitted: "When I heard it the orchestrations were fantastic. Obviously I've got a couple of co-write songs on there. I just thought It was kind of a cool idea.
"The only thing I am not quite sure about is the singing on it.
"It's kind of opera and it is done very well as opera, but whether it is the punk kind of mentality is another thing.
"If they had punk singers singing with a concert orchestra, I don't know if that will work either. The truth is out on that with me, but the music is great."
'The Anarchy Arias' is released via Universal on June 9.
The track-listing is as follows:
1) 'Pretty Vacant' (originally performed by Sex Pistols)
2) 'No More Heroes' (originally performed by The Stranglers)
3) 'Should I Stay Or Should I Go' (originally performed by The Clash)
4) 'Ça Plane Pour Moi' (originally performed by Plastic Bertrand)
5) 'Teenage Kicks' (originally performed by The Undertones)
6) 'The Sound Of The Suburbs' (originally performed by The Members)
7) 'Ever Fallen In Love...(With Someone You Shouldn't've)' (originally
performed by Buzzcocks)
8) 'God Save The Queen' (originally performed by Sex Pistols)
9) 'London Calling' (originally performed by The Clash)
10) 'Babylon's Burning' (originally performed by The Ruts)
11) 'Oh Bondage Up Yours!' (originally performed by X Ray Spex)
12) 'Love Will Tear Up Apart' (originally performed by Joy Division)
13) 'Neat Neat Neat' (originally performed by The Damned)
Source: www.msn.com
Added automatically
569 views