News
Bebe Rexha takes her brother on tour to stay 'sane'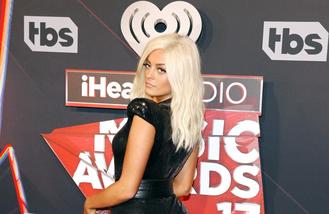 Bebe Rexha always take her brother or a friend with her on tour to ensure she remains "sane".
The 27-year-old singer is currently touring North America and Europe, and Bebe has admitted she needs a familiar face around her on the road to save her from insanity.
Bebe - who cited her brother as the fourth-most important thing she takes on tour - explained: "He should probably be higher on the list. I always have to bring my brother, or at least a friend, on the road with me to keep me sane and to sort of have a personal life."
As well as needing her brother by her side, Bebe also revealed she couldn't tour without the assistance of her stylist, Melissa Hernandez.
Bebe joked that without the help of Melissa, she would look "scary" while on tour.
She told Billboard: "If I didn't have her on the road with me, I would look like a mess every day.
"She literally makes me look normal every day. Without her, I would not look normal - I would look scary. I always tell fans when I'm onstage that I do not wake up like this."
But Bebe confessed that her most important on-tour companion is her mobile phone, which allows her to stay connected to her parents and her pet dog.
In fact, the 'No Broken Hearts' hitmaker revealed her dad would become "mad" if she didn't stay in touch during her current tour, which ends on May 18.
She shared: "I need to FaceTime my mom - she's babysitting my puppy, Bear, and I need to see my puppy on FaceTime. I also have to call my dad, otherwise he gets mad."
Source: www.msn.com
Added by AutoAdmin
328 views