News
Mel B comforted by spirit of late grandfather through nasty divorce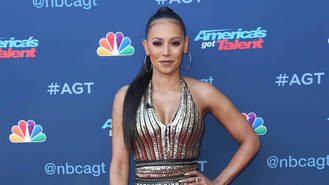 Mel B leaned on the spirit of her late grandfather for support ahead of her nasty divorce from Stephen Belafonte.
The Spice Girls star, real name Melanie Brown, visited American psychic medium Tyler Henry in December (16) around the same time she separated from film producer Stephen, and her session with the TV clairvoyant reconnected her with a long lost loved one.
"That's my granddad (Stanley Dixon)," Mel gasps in a teaser for the episode of Hollywood Medium With Tyler Henry as the psychic describes a man he made contact with from beyond the grave.
After the 41-year-old heard the messages Henry conveyed to her, she was left speechless: "This reading was mind blowing," she exclaimed, "Out of this world correct on so many different levels. He (my grandad Stanley) really is listening to me and watching everything I am doing."
Mel went on to explain she and her grandfather had a really tight and supportive relationship, and she even helped him face death as he battled cancer.
"My grandad had cancer for a long, long time but didn't tell anybody until the cancer was so bad that he couldn't deny (it), because he was going to die," she recalled. "So the way that he told everyone was very sudden and very abrupt.
"He used to say to me, 'I know I'm not going to pull through'. He would always say, 'Thank you, because I can only talk about my death to you'. So we used to have secret conversations with my grandad."
Stanley also supported Mel at her lowest: "My grandad was everything to me. My grandad always used to validate that it was OK to be a little bit different. And that is such a relief to know that he is right there."
The singer filed for divorce from Belafonte in March (17) and the split has not been easy. Mel has accused him of abusing her throughout their relationship and even forcing her to have threesomes with their former nanny Lorraine Gilles, who has slapped Brown with a lawsuit for libel regarding the claims.
Source: www.msn.com
Added by AutoAdmin
282 views