News
Karen Elson: 'I didn't want people to laugh at my music'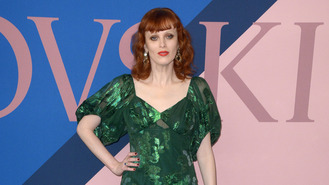 Karen Elson waited to release her music because she feared she would be ridiculed.
The English star made a name for herself as a model, having landed the cover of Vogue Italia at the age of 18, before going on to front campaigns for the likes of Roberto Cavalli and St.John.
The 38-year-old branched into music in 2010 with the debut album The Ghost Who Walks, which was produced by her then-husband, White Stripes frontman Jack White.
"From the age of eight, all I wanted to do was be a singer," Karen shared in an interview with British magazine Grazia. "But because it held such personal weight for me, I never wanted to come out and make a record that could be ridiculed or be half-attempted. I was very conscious that if I was going to put anything out there, I was going to make it beautiful. So I took my time and I'm glad I did. My only motto is to follow my instincts."
Karen's follow-up album, Double Roses, was released earlier this year (17).
The flame-haired star still finds time to model too and is currently the face of fragrance brand Jo Malone. On top of this Karen also brings up her children Scarlett and Henry, whom she shares with Jack.
"I've always been many different things rolled into one: I'm a loner, but I love people, for example, and I really am as passionate about music as I have been about modelling," she shared. "It might be a bit more of a hustle now that I'm a mother too, but I'm prepared for the challenge. The world always works itself out somehow."
Source: www.msn.com
Added automatically
590 views