News
Thomas Rhett confirms Selena Gomez duet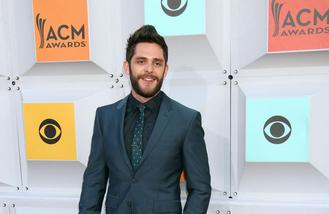 Thomas Rhett has confirmed he has recorded a duet with Selena Gomez.
The 27-year-old musician and the 'It Ain't Me' hitmaker have collaborated on a song, but he's not sure when it will be released and if it will be on his new record, as when pop and country genres collide it can be difficult to get the sound just right.
Speaking about the track in an interview with Rare Country, he said: "It's possible. Anytime the country world melts into the pop world, it's an interesting conversation. A lot of things need to be correct for it to work out. But yes, Selena did sing a song of mine. It's still sort of up in the air if it's going to actually make the record."
The 'Make Me Wanna' hitmaker also revealed that the pair have never actually met and Selena, 24, recorded her part on her own.
Thomas says he was "terrified" to pitch improvements or different ideas to the brunette beauty - who is dating rapper The Weeknd - because of how much he respects her as an artist.
He explained: "I've only been able to talk to her over the phone, but I was blown away just how super nice and respectful [she was], because I was terrified to talk to her, especially about the song. Like, I was scared to say, 'Maybe if you try this?' to the biggest superstar that literally exists in this world and I'm just me?
"But yeah, she was so sweet and I can't wait to meet her someday."
Source: www.msn.com
Added automatically
599 views