News
Rod Stewart uses vow renewal ceremony to raise funds for Grenfell Tower survivors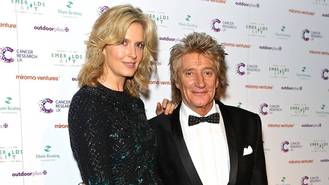 Rod Stewart and Penny Lancaster have used their vow renewal ceremony to help the survivors of the Grenfell Tower tragedy.
The couple remarried earlier this month (Jun17), and decided to forego gifts from friends and family asking them to donate money to the those left homeless by the London fire, which claimed the lives of 80 people.
''We decided we wanted to keep it private and we didn't want magazine photographers at the wedding, but as we were saying thank you to our guests, my husband said, 'I know we said no gifts but how about everyone makes a donation to the terrible fire that happened in the Grenfell Tower?'" Penny told British chat show Loose Women. "Everyone was very generous... and then Rod quadrupled it.''
After the ceremony, Rod and Penny decided to sell their exclusive photos to Hello! magazine and donate the funds to the London Community Foundation.
"Someone said, 'Why don't we make some more money and take pictures and sell them and tell this lovely story?', because as the ceremony was going on, we couldn't help but reflect at what a lovely time we were having when there were families suffering," she continued. "So Hello! have been very generous with a huge amount of money to go toward the fund in exchange for a few pictures.''
''We just enjoyed the day so much and it's important that we put our arms around each other and enjoy those moments because you never know how many of them you'll have," she added.
Source: www.msn.com
Added automatically
664 views