News
Lorde's new track inspired by tearful reaction to Rihanna song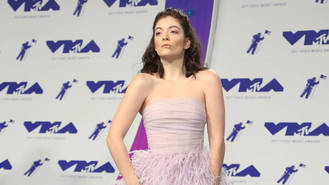 Lorde's new song Liability was inspired by the singer's emotional reaction to hearing Rihanna's Higher for the first time.
The star revealed how much her latest release was influenced by the R&B sensation while headlining a secret iHeartRadio concert at the Houdini Estate in the Hollywood Hills, Los Angeles on Tuesday (29Aug17).
Lorde revealed she first heard the track in her native New Zealand at the end of a difficult day, during a car ride home after a long walk.
"I was crying because I was feeling this very specific feeling of being too much for somebody," she told fans, who were shuttled to the Laurel Canyon gig. "It's a very strange feeling when you feel like you're too much. Like you're taking up too much space. And I felt like no one could ever love me for all that I am because I'm a lot...
"I feel everything so deeply, and that's what (new album) Melodrama is about; the depth of emotion, especially when you're 19 or 20."
After telling the story, Lorde sang the opening lines of Rihanna's song before performing Liability to the crowd of eager fans.
Tuesday night's intimate show, which was part of a series of Secret Sound Session? concerts hosted by AT&T and iHeartRadio, followed the 20-year-old's bizarre performance at the MTV Video Music Awards on Sunday (27Aug17), in which the sick Royals hitmaker chose not to sing and instead offered fans and viewers an interpretive dance routine to a remix of her single Homemade Dynamite.
It was later reported that the star refrained from singing due to a battle with influenza, which she was still battling on Tuesday night.
Source: www.msn.com
Added by AutoAdmin
420 views