News
Joe Jonas: 'We want DNCE fans to feel free to be themselves at gigs'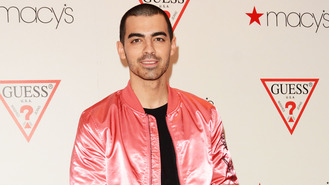 Joe Jonas wants to create a safe place for fans at DNCE gigs.
The band, made up of former Jonas Brothers singer Joe, Cole Whittle, Jack Lawless, and JinJoo Lee, have made a massive impact on the charts since releasing debut single Cake by the Ocean in September 2015.
Since then, the group has amassed legions of fans, and Joe hopes that they all feel free to be themselves when watching the band play live.
"We want people to feel, like, it's a safe place to come to our concerts," Joe told #Legend magazine. "They can feel free, whatever version that is for them. They can dress, or put on whatever outfit they feel proudest about, and they can come dance and smile and have fun. There's a lot of negativity in the world, and we hopefully want to make some people happy and bring some love to this universe."
When asked about the famous acts who have influenced DNCE's music, bassist Cole shared that the four-piece are attracted to "heroes" from both the art and music world.
And when pushed further, Joe explained how late superstar Prince has had such a powerful effect on his band.
"(Prince could) kind of, could do anything. And there's only a few musicians in that iconic genre that can do that," he summed up. "Whether it was beautiful ballads, to funk, to pop, to dance hits, to movies, he's also one of the biggest silent writers in the world. He's just so talented. His craft, for what he did, was really on point – and also his fashion. When you listen to his music and then you see him live… you couldn't say no to Prince, and that was the beauty about him.
"We've covered his songs here and there, some of his music. He's definitely one of our heroes, and the biggest inspiration. He's top of the list."
Source: www.msn.com
Added by AutoAdmin
183 views