News
Demi Lovato: 'I could never release a song that hurt someone'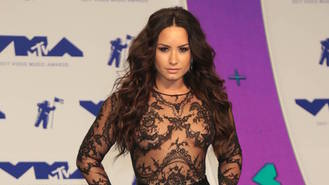 Demi Lovato has held back some heartbreak tunes because she could never release a track that hurt someone's feelings.
The Cool For the Summer hitmaker, who previously dated actor Wilmer Valderrama and Joe Jonas, insists she's a brutally honest person, but couldn't imagine upsetting someone with an incredibly personal song.
"I don't believe in regrets, but there are some songs I won't release because I feel like they would hurt the person who inspired them if they ever got out," she told The Sun.
Demi has grown up surrounded by family members who never sugarcoat their feelings and she believes that is why fame hasn't gone to her head - and their honesty has rubbed off on her.
"It's important to be honest. Being that way has always come naturally to me," she confessed. "I've grown up with some brutally honest family members who wouldn't let me be any other way. They keep things real for me and help me stay grounded."
Her family might keep her grounded, but Demi also revealed the best advice she has ever been given was to not believe the hype surrounding herself.
"Being in the entertainment industry can really affect your ego, so I always keep those words of wisdom in mind," she explained. "And my advice to others is to surround yourself with good people who will support you, no matter what you're going through. Those are the people you can be open with and talk to about anything."
Demi also confessed she still gets nervous when releasing new music, but assured fans she would never put out anything she wasn't proud of: "As long as I'm making music that I appreciate, I'm going to be happy with whatever the hell comes with it," she added.
Source: www.msn.com
Added by AutoAdmin
229 views