News
Aaron Carter voices concern over his gaunt appearance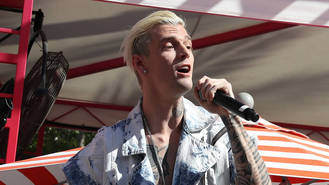 Aaron Carter has acknowledged concerns over his health after being told he looks like he's "dying".
The 29-year-old musician has had a tough few months in the spotlight, which has seen him arrested for driving under the influence, coming out as bisexual and being involved in a car crash.
His gaunt exterior has also worried fans and those close to him, as has his drug use, and it seems Aaron has finally acknowledged those concerns.
Breaking down in tears during a teaser clip for an upcoming episode of TV show The Doctors, the blonde star explains, "I'm concerned about my overall health because people tell me I look like I have AIDs or I look like I have cancer or I look like I'm dying.
"I didn't realise I was 115 pounds. That is terrible," he also noted. "I wasn't looking at myself in the mirror because I didn't like the way I looked."
Aaron underwent a drug test during his appearance on the programme, which came out negative for both cocaine and methamphetamine and positive for marijuana.
But Dr. Travis Stork described the singer's combination of prescription medication, "benzodiazepines with opiates" as "very, very scary" and potentially fatal. Even more so as the singer's sister Leslie aged 25 in 2012 after an overdose.
"I don't want to be on that stuff. My sister passed away from it. It's not OK. I don't take it every day," Aaron sighed. "To be honest with you, it's not going to be easy. I know that it's a hard road."
The I Want Candy singer went on to recall how "scary" it was to say goodbye to her as she lay in a coffin.
"My family knows, before I did the show The Doctors, they knew that I was taking Xanax and stuff like that and that I was going to actual psychiatrists to do that," Aaron explained. "I know that there is no happy ending to any of those medications."
Source: www.msn.com
Added by AutoAdmin
211 views