News
Rihanna piles pressure on President Trump to help hurricane hit Puerto Rica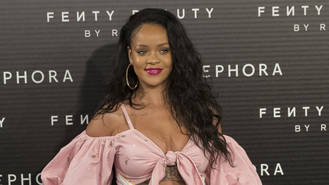 Rihanna has urged U.S. President Donald Trump to increase government efforts to help American citizens in hurricane hit Puerto Rico.
The Caribbean island, which is a U.S. territory, was struck by Hurricane Maria last week (end24Sep17), cutting off power on the island and leaving many of its 3.4 million citizens without access to food and water and unable to contact their families.
Trump has been criticised for the American government's limited response to the natural disaster and Rihanna has added her voice to those calling on the president to do more.
The Umbrella singer, who is from Barbados, another island in the Caribbean, posted an image of the front page of Wednesday's (27Sep17) New York Daily News reporting on Puerto Ricans' distress.
"No food, no water, no medical care for the dying...Puerto Rico needs more help, Mr. President!" the newspaper's splash read, above the headline,"American Tragedy".
In her tweet Rihanna added, "Dear @realDonaldTrump I know you've probably already seen this, but I just wanted to make sure!
Don't let your people die like this."
The actress Alyssa Milano also tweeted the newspaper's emotive frontpage.
President Trump has also been criticised for comments he made on the situation on Tuesday (26Sep17) when he said, "This (Puerto Rico) is an island sitting in the middle of an ocean. And it's a big ocean; it's a very big ocean."
Rihanna later tweeted in praise of America's five living former presidents, who are raising funds to help those hit by the hurricane.
Celebrity members of America's Puerto Rican community have been leading aid efforts, as Jennifer Lopez, who lost contact with family members on the island for almost a week, has teamed up with ex-husband Marc Anthony to launch a relief alliance.
She has donated $1 million (£745,900) to relief efforts, while her fellow Puerto Ricans Daddy Yankee and Luis Fonsi have also been collecting for victims.
Source: www.msn.com
Added automatically
445 views