News
Take That drop new song and reveal greatest hits tracks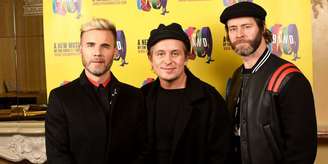 Ahead of their massive tour next year, Take That have dropped a brand new song for fans alongside the tracklisting for their new greatest hits album.
The band have released 'Out Of Our Heads', which will appear on their album Odyssey alongside new versions of some of their biggest hits.

These include reworked variations of 'Back for Good', 'Never Forget', 'Greatest Day' and so forth, as well as a few exciting guest stars.
The Bee Gees' Barry Gibb will appear on their version of 'How Deep Is Your Love', while Boyz II Men will guest on a new version of classic hit 'Love Ain't Here Any More'.
"We've reimagined some of the songs, but not all of them," Gary Barlow has said of their new album. "You've got to be careful with these things. If you take them too far, you're destroying people's memories.
"We've tried to be respectful to the music, but just putting a load of music on an album wasn't enough for us. We wanted to just go back and have a look through it, and try to make it sound better."
It comes a few weeks after tickets for Take That's new tour went on sale, though some fans did have issues getting hold of tickets.
As part of their 30th anniversary celebrations, the band are also making a documentary called Take That and Us for BBC One, which will feature fans talking about how Take That changed their lives.
The full Odyssey tracklist is below:
CD1:
'Greatest Day' (Odyssey Mix)
'It Only Takes A Minute' (Odyssey Mix)
'These Days' (Odyssey Mix)
'Could It Be Magic' (Odyssey Version)
'Everything Changes' (Odyssey Version)
'Travel Interlude'
'Out Of Our Heads'
'A Million Love Songs' (Odyssey Mix)
'Sure' (Odyssey Mix)
'Love Ain't Here Any More' – featuring Boyz II Men (Odyssey Version)
'Spin'
'Cry' (Odyssey Mix)
'Said It All' (Odyssey Mix)
'How Deep Is Your Love' – featuring Barry Gibb (Odyssey Version)
CD2:
'Let's Do It Again Interlude'
'Patience' (Odyssey Mix)
'The Flood' (Odyssey Mix)
'Back For Good' (Odyssey Mix)
'Get Ready For It' (Odyssey Alt Intro)
'Everlasting'
'Giants' (Odyssey Mix)
'Shine' (Odyssey Alt Intro)
'Never Forget' (Odyssey Version)
'Relight My Fire' ft. Lulu (Odyssey Version)
'Babe' (Odyssey Version)
'Pray' (Odyssey Version)
'Rule The World' (Odyssey Version)
Source: www.msn.com
Added automatically
576 views