News
Eminem regrets homophobic slur against Tyler, the Creator: 'I was hurting a lot of other people by saying it'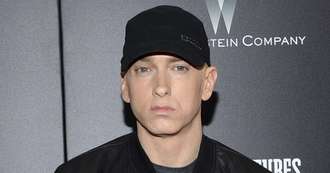 Eminem has implied he regrets his use of a homophobic slur against fellow rapper Tyler, the Creator on his new album Kamikaze.
On the track "Fall", which features vocals from Bon Iver's Justin Vernon, he raps: "Tyler create nothin', I see why you called yourself a faggot, bitch."
His use of the word in reference to Tyler, who hinted that he is either gay or bisexual on his latest album Flower Boy, caused a backlash that threatened to overshadow his album's surprise release.
Speaking during his multi-part interview series with Sway, he appeared to express remorse to the slur and said: "I think the word that I called him on that song was one of the things where I felt like this might be too far.
"Because in my quest to hurt him, I realise that I was hurting a lot of other people by saying it... at the time I was so mad... It was one of the things that I kept going back to and going 'I don't feel right with this'."
He said that he hit out at Tyler and Earl Sweatshirt after the rappers criticised him in interviews and on social media, citing Tyler's tweets about Shady XV and Earl Sweatshirt's comment: "If you still follow Eminem, you drink way too much Mountain Dew".
"I was like, really? What the f***," Eminem said. "You guys were just on tour with us, we hung out, we kicked it, made jokes."
The final straw apparently came when Tyler criticised his Beyonce collaboration "Walk On Water". Upon its release Tyler tweeted, in apparent reference to the track: "Dear god this is horrible sheesh how the f***."
Eminem did not respond to Vernon's reaction to being featured on a track with a homophobic slur.
The singer expressed disappointment at the lyrics and claimed he asked Eminem not to release it, tweeting: "Not a fan of the message, it's tired."
Source: www.msn.com
Added automatically
539 views