News
The Overtones to release first album since Timmy Matley's death: 'You'll hear us as a five for the last time'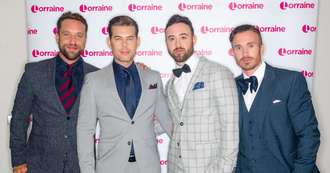 The Overtones were heartbroken by the loss of their friend and fellow band member Timmy Matley earlier this year.
But now the boys are back with a new album, and have revealed it will feature them as a five-piece.
"We started this album with Timmy... Timmy features on the album, you'll be hearing us as a five for the last time," Lachie Chapman revealed on today's Lorraine.
"He was once-er and we will love that boy for the rest of our lives."

Timmy's shock death came after it looked like he was winning his battle against skin cancer.
He was diagnosed with stage 3 melanoma in 2016 with it becoming stage four in 2017, but last Christmas he told fans his scans 'looked really positive', and that 'most of the cancer was in regression.'

And like his army of fans, Lachie, Mike Crawshaw, Darren Everest and Mark Franks admit they were floored by grief.
"It came as a giant shock to everyone, we went right underground," Lachie said.
I came back from Australia and we had the talk - do you shut down the website? Do you crack on? This album will be a celebration of the five of us."

"But we're back in the studio. We have recorded an album and it's going to be coming out in October. It's been the most extraordinary thing to do. We've stuck together like a band of brothers and we've recorded the most beautiful album that we're proud of that our beloved Irish angel friend Timmy Matley would be proud of."
The album is available pre-sale today ahead of its October 19 release.

And the group is also heading out on a 22-date tour, kicking it off at tour at Watford Colosseum on November 22, and playing across the UK until December 20 at the London Indigo O2.

Mike Cranshaw added: "€œWe'€™re actually going to be going on tour near Christmas [...] We're thrilled that we'll be out and in front of our fans again and say thank you in the way we know how."
Source: www.msn.com
Added automatically
564 views