News
Amy Winehouse Hologram Tour Planned For 2019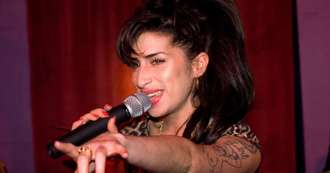 An Amy Winehouse tour is planned for 2019, with the late singer in hologram form.
Winehouse's father, Mitch Winehouse, told Reuters that the shows will debut in 2019, with a live band accompanying vocals from his daughter's original recordings. All proceeds from the concerts will benefit the Amy Winehouse Foundation, which was established after her death to help young people suffering with substance abuse and other issues.
Winehouse died of alcohol poisoning in 2011. She was 27. Her album, Back to Black, won five 2008 GRAMMY Awards and became the UK's best-selling album of the 21st century for a time after her death.
The concert tour will be created by the same company that produced holograms tours for Roy Orbison and Maria Callas, and producers hope to take the concert around the world for three years.
"Fans have been clamoring for something new from Amy, but really there isn't anything new [in terms of music]," Mitch told Reuters. "We felt this would be a tremendous way for Amy both to revisit her fans through a hologram, and also an incredible way to raise money for our foundation."
In 2016, a hologram version of Whitney Houston was set to duet with Christina Aguilera on The Voice. However, the performance was axed after Houston's estate stepped in.
In a statement issued exclusively to ET at the time, estate executor Pat Houston said: "Holograms are new technology that take time to perfect, and we believe with artists of this iconic caliber, it must be perfect. Whitney's legacy and her devoted fans deserve perfection. After closely viewing the performance, we decided the hologram was not ready to air."
Source: www.msn.com
Added automatically
490 views