News
Elton John asked Andrew Marr to give Putin 'a Donna Summer album and a kiss' on his behalf during 2014 interview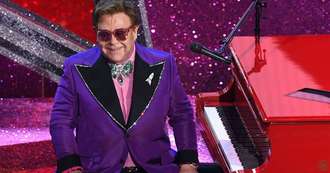 Elton John asked Andrew Marr to give Vladimir Putin a Donna Summer album and a kiss on his behalf when he interviewed the Russian president.
Appearing on Sunday Brunch this weekend (1 November), Marr told hosts Tim Lovejoy and Simon Rimmer that he had been tasked with interviewing the Russian leader during the 2014 Winter Olympics in Sochi.
At the time, the sporting event was protested by LGBTQ activists, after a law was passed in Russia in 2013 banning "propaganda" or teaching that might "promote homosexual behaviour among minors".
"I was going to go to interview [Putin] and I happen to see Elton John very shortly beforehand," Marr explained.
"He said to me, 'Well, I'm not going to tell you what to say or do, but I just want you to give him a Donna Summer album from me,' and he handed it over, 'and a kiss from me'."
The presenter admitted that he hadn't fulfilled John's request, saying: "I thought I just can't go up to the president of Russia, kiss him and give him a Donna [Summer album]."
He did however ask Putin about his stance on LGBTQ issues, to which the president replied that he had "many, many gay friends".
"I didn't quite believe him," Marr added.
During Marr's interview with Putin, the Russian president told the presenter that he is not homophobic because he loves John's music.
Claiming that the country's laws didn't persecute individuals for their sexual orientation, Putin said: "It seems to me that the law we adopted doesn't harm anybody. What's more, homosexual people can't feel inferior here because there is no professional career or social discrimination against them.
"When they achieve great success [they are honoured] – for example Elton John is a extraordinary person, a distinguished musician, and millions of our people sincerely love him, regardless of his sexual orientation."
In response, John said that he wanted to sit down with Putin over a "cup of tea" and discuss the issue.
Source: msn.com
Added automatically
348 views