News
American couple posts 'sickening' video of racist 'joke' about 'Black people'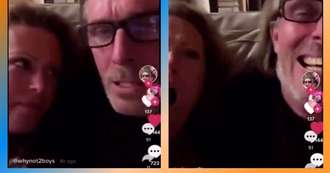 An American couple has gone viral for the worst of reasons – after hundreds called out their racist comments in a Thanksgiving TikTok video.
The account the video was posted from, @whynot2boys, since appears to have been deactivated, but users uncovered a YouTube account which appears to be run by the same people. Their videos remain up, including one which makes a homophobic "joke" another which "jokes" about cervical cancer and one which suggests they are making branded T-shirts and a DVD of their content. 
The comments under the videos are largely calling out the couple's behaviour, although the channel does have around 1,240 subscribers.
Despite the TikTok no longer being live, footage of the specific clip in question has been widely shared across social media. 
It appears to have been originally posted to Twitter by @davenewworld_2. You may remember it as the account which originally posted the video of Trump supporters in a senior citizens home in Florida shouting "white power". The video was retweeted by the president, who appeared to approve of the racist dogwhistle.
Now, the same Twitter user, who goes by the name "Fifty Shades of Whey" has called out the TikTok video, and his reposted clip has been viewed almost 150,000 times. 
You can view the footage here, but please be aware that it might be distressing or triggering.
In the video, the couple are laughing and smiling, before the man says: "A little trivia for you…" and proceeds to ask what "blacks get after sex".
Regardless of what the answer is, the "joke" is patently racist in itself, but it actually gets worse. Twice.
First, the woman replies "Aids", which is enough to leave anyone speechless. The man proceeds to laugh, shake his head and reply "seven to ten". They both burst into laughter and the video ends.
The "seven to ten" remark has largely been interpreted as referring to a jail sentence, seeming to imply that the sex could not be consensual. This plays into a generations-old racist stereotype around Black men.
On social media, people were understandably speechless and the comments were labelled "sickening", "disgusting" and "repulsive".
Of course, as with all things that seem too awful to be true on the internet, it is possible that the couple are simply trolling people with their remarks. 
Still, whether genuine or not, there's no doubt the existence of accounts using damaging racist stereotypes for personal gain shows there's still a long way to go in the fight against racial injustice.
Source: msn.com
Added automatically
374 views