News
Halsey joins Grammy nominations criticism: 'It's not always about the music'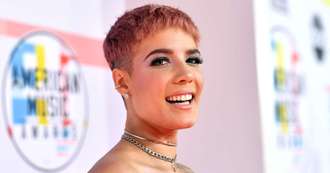 Halsey has weighed in on this year's controversial Grammy nominations.
The singer, who was among the artists shut out from the 2021 ceremony despite releasing work that was both critically and commercially successful, shared her thoughts on Instagram Stories.
"I've been thinking and wanted to choose my words carefully because a lot of people have extended sympathy and apology to me since the Grammy nominations," she wrote, via Deadline.
"The Grammys are an elusive process. It can often be about behind-the-scenes private performances, knowing the right people, campaigning through the grapevine, with the right handshakes and 'bribes' that can be just ambiguous enough to pass as 'not bribes.'"
If an artist gets that far, she said, it then became about "committing to exclusive TV performances and making sure you help the Academy make their millions in advertising".
She added that "sometimes it is… but it's not always about the music or quality or culture".
Halsey's comments come after The Weeknd branded the Grammys "corrupt" following his shock omission from the 63rd awards ceremony.
The "Blinding Lights" singer, who has received support from Drake, Elton John, Charlie Puth and more, was widely expected to be nominated for Song of the Year and Record of the Year, after releasing one of the biggest hits of 2020.
His album, After Hours, was also believed to be a dead cert for the Album of the Year category.
"@theweeknd deserves better, and Manic did too perhaps it's unbecoming of me to say so but I can't care anymore," Halsey said, referring to her own album.
"While I am THRILLED for my talented friends who were recognised this year, I am hoping for more transparency or reform. But I'm sure this post will blacklist me anyway."
Justin Bieber also criticised the Grammy nominations despite being nominated, taking issue with being placed in the pop categories rather than R&B.
Responding to The Weeknd's criticism, interim Grammys president Harvey Mason Jr said: "In every year you only have a certain amount of people you can nominate for each category... 
"We are excited about some of the other categories where he was nominated. It's never easy to tell where people are going to land."
Source: msn.com
Added automatically
322 views