News
Mariah Carey Will Forever Be The Queen Of Christmas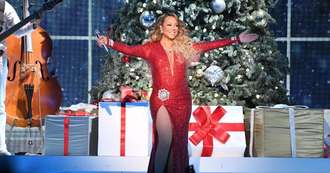 Mariah Carey is the Queen of Christmas. This is an undisputed fact. You can only start counting down the days when Mariah says so.
This year, she is really pulling out all the stops, along with Jennifer Hudson and Ariana Grande. The popstars are collaborating with Mariah for a new version of her 2010 hit Oh Santa! But that's not all. Carey has also landed the singers for a Christmas special - Mariah Carey's Magical Christmas Special - now on AppleTV+.
Also joining Mariah, Ari and Jennifer are Tiffany Haddish, Billy Eichner, Snoop Dogg, Jermaine Dupri, Misty Copeland and Mykal-Michelle Harris (and there is an appearance from her twins: Moroccan and Monroe). Intrigued? The plot of the show goes something like this: 'Faced with a holiday cheer crisis, the North Pole knows there's only one person who can save the day: Santa's great friend, Mariah Carey.'
So Christmas has officially started. But what with everything being terrible this year, people have been blasting All I Want For Christmas Is You even earlier than usual. Last month, Mariah replied to a tweet about Google searches for the song increasing, saying it was too early to start celebrating - proving she really does control when Christmas starts. It's easy to forget the song was released in 1994, but it still stands the test of time and - according to The Economist - has earned her over $60 million. In the UK alone, the song earns her over $500,000 in royalties every year, according to The Independent.
While we're at it, how can we forget one of her best Christmas moments? Last year's Walkers advert which the star appeared in for an eye-watering £9million. In one of the most iconic adverts of all time, Mariah gets into a tug of war with a man dressed as a Christmas elf... over a packet of pigs in blanket crisps. And then proceeds to only eat half a crisp. Nobody else could get away this but Mariah, our queen of Christmas.
Source: msn.com
Added automatically
439 views