News
Help, We Can't Stop Listening To Britney Spears' Newly-Released Song 'Swimming In The Stars'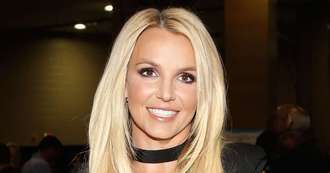 Britney Spears has released a never-before-heard song, marking her first since she celebrated her ninth studio album Glory in 2016.
On the same day as her 39th birthday on Tuesday, the famous singer released the song titled 'Swimming in the Stars'.
Music producer Matthew Koma - who is married to Hilary Duff - co-produced and co-wrote the track and couldn't help but share his excitement for its release on his Instagram.
'Made a song with @britneyspears and it's out today. 14 year old me watching the girls at Sports Night dance to Baby One More Time with @james_del is pumped, [sic]' he captioned a photograph of the track's cover in which Spears is dressed in gold and knelt down on a beach.
A post shared by Matthew Koma (@matthewkoma)
While the catchy pop tune wasn't included on Spears' latest album, it's now set to be sold exclusively at Urban Outfitters as a limited vinyl, according to the high street giant.
The vinyl is touted as 'a must for all devotees in the Britney Army' by the retailer and is currently backordered until January 15, 2021.
For those unable to get their mitts on a sparkly vinyl copy, which will be sold for $16.98 (£15.34), you can instead stream it on Youtube on repeat, in addition to the singer's bonus track 'Mood Ring', which was released in May.
Despite our joy over new music from the pop star, who has provided us with nostalgia for days and frequent mood boosts during lockdown in 2020, her latest release calls into question her ongoing battle for the end of her conservatorship.
In recent years, the singer's fans have united in chorus with the singer over a legal row over her estate, income, career and social comings and goings, and even launched the viral hashtags #FreeBritney and #SaveBritney to bring light to Spears legal issues.
In February 2008, Spears' father Jamie was appointed his daughter's legal guardian of her estate, meaning he manages her financial affairs.
According to the BBC, the 'Boys' singer lost a court bid to remove her father as her estate's conservator in November. The financial company Bessemer Trust has since been appointed as a co-conservator, the news outlet reports.
Although the matter remains unresolved, a judge has reportedly said 'she would consider future appeals for his dismissal or outright removal'.
Source: msn.com
Added automatically
358 views