News
Who is UK Eurovision's Sam Ryder? TikTok star turned fan favourite in race for win with Space Man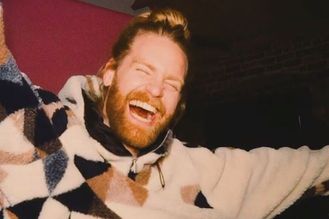 There are now just days to do until the start of the Eurovision Song Contest and United Kingdom hopes are pinning their hopes on Sam Ryder, with support growing all the time as odds on him winning continue to tumble.
Millions tuned into BBC and across the world in May last year to see the UK's 2021 entrant James Newman score both nil points with the juries and in the public vote. But, in spite of that dismal show in Rotterdam, there is a lot more optimism from the UK camp this year after noted music management company Tap, who Dua Lipa was signed to until recently, got involved with the selection process.
After names like London Grammar and Years & Years were banded about, it was Sam who came up time and time again on social media as Eurovision fans grew more and more impatient at waiting to find out who was representing the UK. Sam himself dropped a huge clue that it might be him when he posted a clip of someone walking along a pavement adorned with the Italian flag.
Eagle eyed followers took that as confirmation that Sam was doing Eurovision and in early March, the cat was finally let out the bag by Scott Mills and Greg James on Radio 1., when it was revealed that Sam would be taking his track Space Man to Turin for Eurovision 2022.
While he might not be a chart regular (well not yet anyway!) Sam is a massive name on social media, on both TikTok and Instagram, where he has 12miilion and 3.5million followers respectively.
As well as Space Man, which has already been getting loads of airplay already on Radio 1, Sam's other tracks include More and Tiny Riot.
On representing the UK in Turin on Saturday, May 14, Sam said: "Having been a fan of Eurovision since I was a kid l I am so honoured to have been presented with the opportunity to sing at an event alongside some of Europe's most talented creatives, performers and songwriters.
"I hope to sing my head off in a way the UK can be proud of, and to showcase a song I wrote with my friends last summer makes the whole experience even more special. See you in Turin legends!"
The main reason why Sam has become a real fan favourite and hit contender to win on Saturday night is the hard work he's been putting in since being confirmed as UK entrant a few months ago. As well as performing at large scale events like Eurovision parties in London and Amsterdam, he has also done a series of flash gigs on the streets of the Dutch city, as well as ones in Madrid and Berlin.
The Eurovision odds make very pleasing reading for Sam, as, at the time of writing on Thursday afternoon, he was second favourite to win behind Ukraine's Kalush Orchestra. And the predictions he'll push Ukraine all the way in the 2022 final were further fuelled by his amazing performance at the end of Wednesday's jury semi final with a video of his act widely shared on social media.
Source: msn.com
Added automatically
287 views