News
Madonna's rule for dating: Joan Collins reveals outrageous comment Madonna shared with her son, Rocco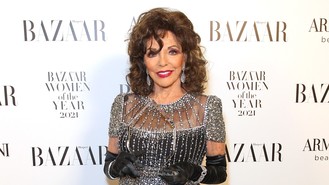 Dame Joan Collins is a showbiz legend who knows everyone, so it's no surprise Piers Morgan would snap her up to appear on his new talk show.
And Piers might have got more than he bargained for when the iconic Dynasty dame revealed the outrageous, hilarious and incredibly on-brand 'rule' Madonna apparently has when it comes to dating.
Joan shared that she spent some time with Rocco Ritchie, Madonna's son with director Guy Ritchie, last summer and Rocco let slip something his mother shared with him.
Joan said, "We were with her son, Rocco, last summer and he said, 'You know my mother says that she will not sleep with anybody over the age of 25!'"
Joan shared the news with Piers as the conversation turned to women dating younger men, often referred to as toy boys.
Piers probed Joan on Madonna's latest flings, saying, "What about Madonna, who is auditioning for a new boy toy?"
Joan chuckled in reply, saying, "You're kidding! No, you've just made that up! What do you mean?"
Piers then inferred that, "No, she wants them to be hard bodied. Hard bodied and young."
Can't knock a woman for knowing what she likes!
Though an age gap between an older woman and younger man shouldn't be shocking in this day and age, there's still a double standard – as evident in Piers' grilling of Joan about her own younger husband.
Joan's husband, Percy, is 31 years younger than the Golden Globe winning icon.
After Joan shared Rocco's tidbit on Madonna's dating rule, Piers asked Joan, "That's never been your rule, has it?"
Joan, as composed and quick as ever, schooled Piers quickly, pointing out, "No. I don't have rules. Rules? I am very happily married, with 20 years."
She even reminded Piers he was invited to her anniversary party.
The controversial host then apologized for not attending, recalling that he was in Australia at the time.
From the Queen of Pop to the Queen herself, Joan used her time talking to Piers to also celebrate the Platinum Jubilee.
She said, "I love The Queen so much. She's a remarkable woman, isn't she? She is the most inspirational woman I think that ever has lived in my lifetime."
"She's got through all of these dreadful things that have happened, and they really have been some awful things that she's had to deal with and she does it with such grace and the fact that she has never, ever commented on anything that's going on."
Photo: provided by Woman&Home
Source: msn.com
Added automatically
405 views