News
Stars join Rock & Roll Hall of Fame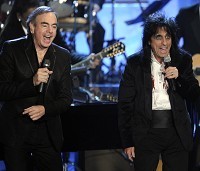 Tom Waits went for laughs, Alice Cooper for shock value, Leon Russell was quietly humble and Neil Diamond was facing a long journey following their induction into the Rock and Roll Hall of Fame.
They were joined by fellow inductees New Orleans piano maestro Dr John and "Wall of Sound" singer Darlene Love at the annual black-tie dinner at The Waldorf-Astoria hotel.
Diamond appeared jet-lagged - he said he flew 25 hours from Australia and was due to fly back there to resume a concert tour. He took pictures of the audience and promised to "tweet this and tell everybody out there that they really do love me in the Hall of Fame".
He criticised Paul Simon, who inducted him, for giving his upcoming album a hard-to-remember title (So Beautiful Or So What). He then called it a great album and jokingly asked Simon for money for the plug. Simon handed over a banknote.
Simon noted that Diamond was first eligible for the rock hall in 1991. "This has been 20 years," he said. "My question is, What took so long?"
Then he provided his own answer: You Don't Bring Me Flowers, Diamond's duet with the un-rock 'n' roll Barbra Streisand.
Alice Cooper wrapped a huge snake around his neck for his induction and performed a trio of the band's hits in a shirt spattered with fake blood. A chorus of schoolchildren in gruesome black make-up joined them for School's Out. "We've always been a hard-rock band," Cooper said. "We just wanted to decorate it a little differently."
Songwriter Waits noted that his rock hall trophy was heavy and wondered if he could have a key-chain version "that I can keep with me in case I hear somebody say, 'Pete, take the cuffs off him. He's a Hall of Famer'".
He described songs as "just very interesting things to be doing with the air". "They say that I have no hits and that I'm difficult to work with," he said, "and they say that like it's a bad thing."
Russell, with a shock of long white hair and beard, walked haltingly onstage with the help of a cane and met John for a warm embrace. "Thank you very much," he said. "I appreciate it and Hallelujah."
Source: music.uk.msn.com
Added by AutoAdmin
882 views