News
AC/DC not fans of reality shows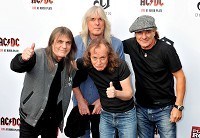 AC/DC have said you won't find members of their band on the panel of a singing contest, because they're not exactly fans of the reality show route to success.
"There's only one way to do it," said the rock band's lead vocalist Brian Johnson. "You get on the stage, you learn your trade and you get out and play in front of people. You serve your apprenticeship just like anybody else.
"The shortcut ways leads to tears at the end of the day. It's all hype. And it's not fair on the kids to make them famous one week and then nobodies the next. It's just not right."
Brian and Angus Young reflected on the path to success before the premiere of their latest DVD Live At River Plate.
It features performances from Argentina, where the band - which also includes Malcolm Young, Cliff Williams and Phil Rudd - performed to an impressive crowd of 70,000 fans each show for three nights last December.
As part of one of the biggest and most enduring bands in the world, Brian and Angus believe that early struggles got them to where they are today. Brian said he started his singing career in youth clubs in front of 30 people and he took buses to get there.
It's a far cry from the large-scale concerts, which were filmed in Buenos Aires and marked AC/DC's return to the country after a 13-year absence.
Brian, 63, said they got an extremely warm welcome back: "From leaving the hotel, the streets were lined all the way to the gig, three or four deep with kids and you knew there was something special going on in the air."
Source: music.uk.msn.com
Added by AutoAdmin
807 views