News
Palace date for Romeo and Juliet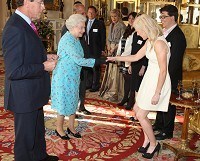 The ballroom at Buckingham Palace, which last played host to the royal wedding reception, has seen a production of another celebrated love story, Romeo and Juliet.
The country's most up and coming young stars performed for the Queen and the Duke of Edinburgh and invited guests at the palace as a showcase of promising talent.
They royal hosts met special guest singer Ellie Goulding, songwriter Duffy and comedian Michael McIntyre in the palace's White Room, where the Queen came face-to-face with her screen double, Dame Helen Mirren, who played her in the 2006 film The Queen.
The 30-minute show, directed by the English National Ballet, opened with Tchaikovsky's Romeo and Juliet Fantasy Overture, performed by the Docklands Sinfonia to the Ballroom's 450 guests. The English National Ballet then followed with a piece to Prokofiev's The Dance of the Knights.
X Factor winner Joe McElderry then wowed guests with Something's Coming from West Side Story, flanked by street dancers from the National Youth Music Theatre.
Tchaikovksy was heard as never before, with DJ Ironik rapping Romeo's Dream alongside singer Sara-Jane Skeete.
Tamsin Egerton, star of film St Trinians, and Skins actor and writer Daniel Kaluuya were cast as the star-crossed lovers, and said they were honoured to be part of the performance, which they say was put together in just 10 days.
Goldie, who teamed up with Prince Harry for a gig at Buckingham Palace last month for his BBC show Goldie's Band: By Royal Appointment, said the evening was a "perfect showcase" of the country's talent.
"Music and drama can be such an important part of young people's lives, so to have the seal of approval from the Queen herself, and know she is behind them, is a real boost."
Source: music.uk.msn.com
Added by AutoAdmin
1077 views