News
Pizzorno focused by fatherhood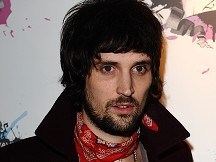 Kasabian's Serge Pizzorno feared that he'd only be able to write lullabies after his baby was born.
The star said that being a father to one-year-old Ennio, who he had with his childhood sweetheart Amy, helped his songwriting.
He revealed: "I was writing when I was doing night feeds. I didn't know how it was going to happen before Ennio came along, I thought I'd just be writing lullabies, or maybe be too tired to write, but it focused me.
"I don't have a lot of time to myself, so now I think, 'I've got three hours, let's get back in the cupboard and knock some tunes out'."
Serge, the band's guitarist and songwriter, said: "The beautiful thing about being a dad is that everything makes sense now.
"All the things that do your head in, that you dwell on and get lost in, have gone out of the window now Ennio's around. None of that matters.
"I'll always strive creatively and drive myself to madness. I'm not ruling that out. I'm obsessed with music, but having Ennio has helped me switch off. It's simplified everything.
"Now I just have to work for the boy."
Kasabian have just released their fourth album Velociraptor!
Serge said of the title: "Velociraptors used to hunt in packs of four. They stuck together, they were the rock 'n' roll band of the dinosaurs."
Source: music.uk.msn.com
Added automatically
1074 views