News
Book prize for Keith Richards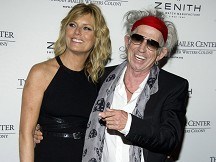 Keith Richards has been honoured with the prestigious Mailer Prize for distinguished biography for his million-selling memoir Life.
The 67-year-old Rolling Stones guitarist joked: "This is one for the books, if you get my drift - you hacks" as he accepted his award at the Mandarin Hotel in Manhattan.
After an evening of earnest speeches about the importance of writing and education, Keith said: "You've heard from some incredible people about some serious stuff."
Referring to his own longtime heroin addiction, he added: "The only serious stuff I'm interested in I've given up."
Bill Clinton, who introduced Keith, was for once a supporting star. The former president called the rocker "my friend" and "a good guy" and repeatedly plugged Life.
The former US president also noted that his late mother-in-law, Dorothy Rodham, was an avid fan.
"Do you have any idea what it's like to have a 92-year-old groupie living in your home, a woman who lived and breathed for the Rolling Stones?" Clinton said of Rodham, who died on November 1. He remembered attending a Stones concert a few years ago at the Beacon Theatre in Manhattan, a show filmed for Martin Scorsese's documentary Shine a Light. Rodham arrived early and stood on line just for the chance to see Richards, "to faint".
Keith also bonded with pop-jazz crooner Tony Bennett shortly before the ceremony. Tony later explained Keith had sent him a nice note about his new album, Duets II.
"I just wanted to thank him," Tony said. But asked if he had any favourite Stones song, the singer admitted he'd never listened to them.
The Mailer awards are named after writer Norman Mailer, who died in 2007, and are sponsored by the Norman Mailer Centre and the Norman Mailer Writers Colony.
Source: music.uk.msn.com
Added by AutoAdmin
615 views