News
Chris Martin: I'd be terrible solo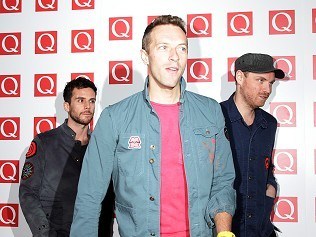 Coldplay frontman Chris Martin doesn't believe he is good enough to go solo, joking even holiday camps wouldn't want him.
The 34-year-old singer-songwriter told Q Magazine he couldn't perform without his bandmates, Jonny Buckland, Guy Berryman and Will Champion, adding he'd probably end up an unsuccessful busker if he tried to go it alone.
Chris said: "I'd just be terrible. I don't think I could even get a gig in Butlins - and I've been to Butlins. I think me and my keyboard would be outside Woolworths most days, getting shouted at."
The musician has written some solo material and performed a set with bandmate Jonny at Mencap's Little Noise Sessions in London last week, but insisted he will never split from Coldplay.
He said: "They're very good friends to me because they know that, as the singer, and especially because I'm married to Gwyneth Paltrow, I get eight times as much media as them.
"They know how much I need them, I just couldn't do it on my own."
Chris and wife Gwyneth Paltrow are close friends of rapper Jay-Z and his wife Beyonce, but Chris revealed he can't believe the hip-hop star is a fan of his.
He said: "When Jay first said, 'I like your band' I was, like, 'What the f*** are you talking about? No, you don't!' Then I realised he doesn't bring any baggage. 'I like your songs.' It was as simple as that."
Chris thinks their friendship is "hilarious", adding, "What's the common denominator? Well, underneath he probably feels a bit like me and I feel a bit like him."
But Gwyneth has another theory. She said: "They balance each other out. Chris and I are like Jay and Beyonce: two paranoid ironists and two calm, grounded people."
Source: music.uk.msn.com
Added automatically
1234 views