News
Stars turn out for singer's funeral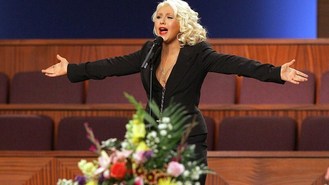 Rhythm & blues legend Etta James has been remembered at a service attended by hundreds of friends, family and fans as a woman who triumphed against all odds to break down cultural and musical barriers in a style that was unfailingly honest.
The Reverend Al Sharpton, a civil rights activist, eulogised James in a rousing speech, describing her remarkable rise from poverty and pain to become a woman whose music became an enduring anthem for weddings and commercials.
Mr Sharpton opened his remarks by reading a statement from President Barack Obama, who said: "Etta will be remembered for her legendary voice and her contributions to our nation's musical heritage."
The Grammy-winning singer died on January 20 after battling leukaemia and other ailments, including dementia. She had retreated from public life in recent years, but her legacy was on display as mourners of all ages and races converged on the City of Refuge church in Gardena, south of central Los Angeles.
Among the stars performing tributes to James were Stevie Wonder and Christina Aguilera, who told the gathering that she has included At Last in every concert she's performed as a tribute to her musical inspiration.
Wonder performed three songs, including Shelter In The Rain and a harmonica solo. James' rose-draped coffin was on display, surrounded by wreaths and floral arrangements and pictures of the singer.
Mr Sharpton, who met James when he was an up-and-coming preacher, credited her with helping break down racial barriers through her music.
"She was able to get us on the same rhythms and humming the same ballads and understanding each other's melodies way before we could even use the same hotels," Mr Sharpton said, referring to the era when racial segregation was the law in many US states.
He said James' fame and influence would have been unthinkable to a woman with James' background - growing up in a broken home during segregation and at times battling her own demons.
"The genius of Etta James is she flipped the script," Mr Sharpton said, alluding to her struggles with addiction, which she eventually overcame. She waited until she turned her pain into power," he said, adding that it turned her story away from being a tragic one into one of triumph. You beat 'em Etta," Mr Sharpton said in concluding his eulogy. "At last. At last. At last!"
Source: music.uk.msn.com
Added by AutoAdmin
704 views