News
Common explains feud with Drake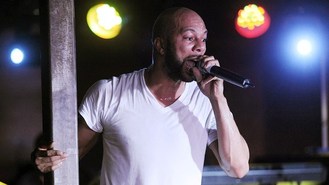 The Sundance Film Festival became the unlikely centre of hip-hop's latest feud when actor-turned-rapper Drake and rapper-turned-actor Common came to town.
Common was promoting his role in upcoming family drama LUV, while Drake was performing at one of the many late-night parties.
The two have traded insults recently via their raps, but Common said he didn't want to say anything else about Drake not in rhyme form.
"I feel like I said everything I really needed to say on the record. I just looked at it as like 'Hey, it's just a hip-hop battle'," he explained in an interview this week.
"The time to talk is on record as far as I'm concerned. If we in the ring, then we just handle our business in the ring."
Common had the most recent entry into the battle, by adding his verse to a Rick Ross song and naming Drake directly - a move that the Chicago native said he felt obligated to make.
"Ice Cube, when he was going at NWA, once he left NWA, you knew who it was. Jay-Z and Nas - Jay-Z said, 'Smarten up, Nas.' And you just knew. Cats would say names," he continued.
"So that's just the way that I feel like you've got to do it. I don't want to like leave anything - I don't want anybody else to think I'm talking about them."
Common started the battle with a song called Sweet on his new album, The Dreamer/The Believer. "He (Drake) felt offended by it. And the song is really discussing how hip-hop has a softer side," said Common.
"And I made it clear that I'm not talking about anyone specifically. For me it was no different than when Jay-Z addressed with DOA, he was talking about Auto-Tune."
Source: music.uk.msn.com
Added by AutoAdmin
658 views