News
Axl's Guns N' No-ses to fame hall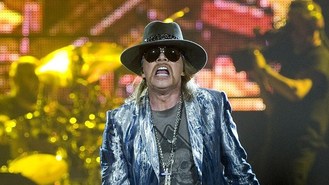 There'll be no Guns N' Roses reunion at this weekend's Rock and Roll Hall of Fame ceremony - Axl Rose says he will not attend and is declining his induction into the hall.
The band split in acrimony in 1996.
But in a letter to the hall, Rose said he would not be at the ceremony and would avoid what would have probably been a "complicated or awkward situation".
"I won't be attending The Rock And Roll Hall Of Fame Induction 2012 Ceremony and I respectfully decline my induction as a member of Guns N' Roses to the Rock And Roll Hall Of Fame," he said in the letter.
"I strongly request that I not be inducted in absentia and please know that no-one is authorised nor may anyone be permitted to accept any induction for me or speak on my behalf."
Although Rose now fronts a reconstituted version of Guns N' Roses that does not include former members Slash, Izzy Stradlin, Duff McKagan or Steven Adler, there was some hope that the band might reunite at the hall.
Even Slash seemed to give a little hope to that idea in an interview last month, saying: "I have no idea what's going to happen on that day. ... It's more like going into it with blinders on and just see what happens."
But Rose was apparently miffed by such talk. "There's a seemingly endless amount of revisionism and fantasies out there for the sake of self-promotion and business opportunities masking the actual realities," he wrote.
He added: "So let sleeping dogs lie or lying dogs sleep or whatever. Time to move on. People get divorced. Life doesn't owe you your own personal happy ending especially at another's, or in this case several others', expense."
Source: music.uk.msn.com
Added by AutoAdmin
2075 views