News
Pink halts gig to comfort teary fan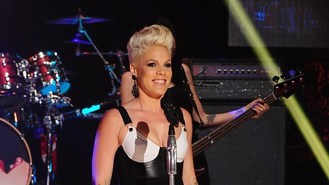 Pink has stopped a concert mid-song to comfort a young girl she spotted crying in the audience.
The 33-year-old Trouble singer - a mother to 21-month-old daughter Willow - was performing in Philadelphia when she noticed the upset fan and stopped to offer her a treat and a stuffed frog that had been thrown onto the stage to try and cheer her up.
Pink is seen on a video an audience member has posted on YouTube singing an acoustic version of her hit Who Knew when she tells her guitar player to stop, saying: "Hold on one second. Is everything OK right here?"
She asked the audience: "Is this little girl all right? What's going on? Why is she crying? Why is she upset?"
Apparently the girl had been scared by a fight taking place in the crowd.
Pink exclaimed: "Because there was a fight?! Y'all are fighting around a little girl?" followed by boos from the audience.
Pink said: "C'mon... all right, all right. I know, everyone's about to fight. I know, I'm from here.
"Honey, do you want this frog? Will this frog and this Rice Krispies treat make you feel better?
She passed them into the audience and told the girl: "You're beautiful. Don't cry. Cry when you're older. Thank you for coming."
Pink told the crowd: "Is everything okay now? Cut it out, y'all. We're grown-a** women," and sat back on her stool and continued with her set as everyone cheered.
Source: music.uk.msn.com
Added by AutoAdmin
795 views