News
Keith Richards: I don't own an iPod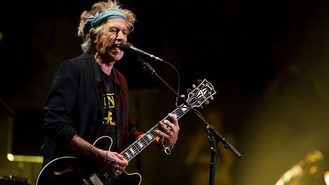 Keith Richards is such an old-school rocker he has confessed he still uses cassettes.
The Rolling Stones guitarist says he isn't a fan of digital music devices and doesn't own one.
Keith said: "I don't have an iPod. I still use CDs or records actually. Sometimes cassettes. It has much better sound; a much better sound than digital."
The 69-year-old believes music lovers are "all being shortchanged" with the sound that comes out of an iPod, launched in 2001.
"My old lady's got one. My kids have got them. I say, 'Look me up this.' Or, 'Oh I like that. Check me that.' I know what these things can do. I'm not totally anti-them."
The Rolling Stones' 50 and Counting Tour kicks off this week in Los Angeles. The Stones released their self-titled debut in 1964, and while Keith has accepted that the music industry is digitally driven today, he's not completely OK with it.
"They're sucked into it and they can't get out of it, nor can we; so is the public," he said. "There's something missing there, but it's the price of the future I guess."
Source: music.uk.msn.com
Added by AutoAdmin
620 views