News
McCartney wows fans as tour opens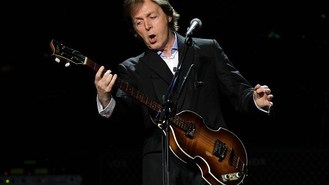 Sir Paul McCartney thrilled fans as he opened his new world tour by playing Beatles classics live for the first time in his career.
The star performed to 55,000 people in the city of Belo Horizonte, Brazil, at the start of his Out There! tour to give tracks such as Your Mother Should Know and Lovely Rita their live debut.
Many Beatles tracks from their later career remained unplayed because the group largely ended their live career in 1966 after playing San Francisco's Candlestick Park.
Also given their first outing were Being For The Benefit Of Mr Kite and All Together Now, while he ran through Eight Days A Week live for only the second time. The Beatles played it just once in 1965.
Sir Paul was playing at the Estadio Mineirao and will travel to six countries in the coming months.
He played his own song Another Day for the first time since 1993, and the Fab Four's We Can Work It Out was back in the setlist for the first time since he headlined Glastonbury Festival in 2004.
The show saw him performing solo acoustic versions of Blackbird and Here Today on a special riser 20ft above the rest of the stage.
At the end of the show he pulled four fans on to the stage - Priscila Brito, 27, Luisa Mattos, 25, Camila Flores, 25 and Cecilia Cury, 21 - who had organised a petition to encourage him to play the Brazilian city.
He publicly thanked them and signed Ms Cury's Beatles tattoo.
Source: music.uk.msn.com
Added by AutoAdmin
709 views