News
Stones 'destined' for festival slot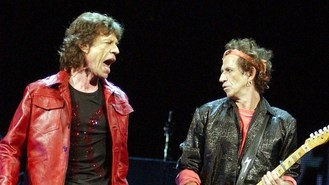 Rolling Stones star Keith Richards said the band was "destined" to make an appearance at Glastonbury, despite turning down a slot for many years, and declared: "It had to be done."
The band will be playing the Somerset festival as headliners on the Pyramid Stage on Saturday night during their 50th anniversary tour.
In an interview posted online, guitarist Keith said: "It's almost like you're finally destined to play Glastonbury. I mean there were many years when we were offered it and turned it down. I look upon it as a culmination of our British heritage really. It had to be done and it's gonna be done, and we'll see what happens, you know."
Frontman Sir Mick Jagger said he is planning to take the opportunity to explore the site at Worthy Farm, with a programme of highlights already set up by his children. He said: "All my kids are going to be there so I'm going to be visiting them in the days before the actual show. And they've got all kinds of activities set up for me to do."
Sir Mick pointed out his brother lives in the nearby town of Glastonbury. And he told fans: "We look forward to seeing you in Glastonbury."
Meanwhile, the Stones have paid tribute to rock concert guru Mark Fisher, who has died aged 66. The stage designer and architect died in his sleep at the Marie Curie Hospice in Hampstead, north London, following a "long and difficult illness", his company said.
Fisher is credited with shaping the look of large scale rock shows over the past quarter of a century - and with his firm Stufish, he created the designs for all Stones, Pink Floyd and U2 tours over the past two decades.
His notable creations include the 360-degree stage for U2's last tour, the staging of The Wall by Pink Floyd in 1980 and more recently by Roger Waters and the Queen's Diamond Jubilee concert outside Buckingham Palace. He also oversaw the London Olympic ceremonies, and worked with artists like Madonna and Lady Gaga.
The Rolling Stones said in a statement that they were "extremely saddened". They went on: "The remarkable sets he designed for us over last two decades played a major part in the success of all those tours. His passion, dedication and professionalism was infectious.
"We all loved his dry sense of humour and unflappable demeanour, a quietly soft-spoken genius. Mark will be sorely missed - not only by us but by every single member of ours and any crew he worked with. Our sincere condolences go to his wife and family."
Source: music.uk.msn.com
Added by AutoAdmin
585 views