News
Bastille: We can all retire now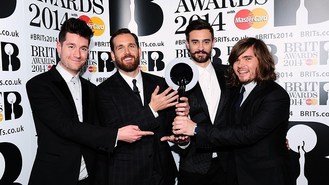 Bastille have joked that they could quit music, after winning a Brit.
The London-based group, who received the prize for British breakthrough act, admitted the win was "completely unexpected".
"It's wicked and completely unexpected. Now we can retire and give up music, and go work in McDonald's like we always planned," quipped frontman Dan Smith.
The band, which also includes bandmates Chris Wood, William Farquarson and Kyle Simmons, have had success with their debut album Bad Blood and single Pompeii, which is doing well in the US.
"We are incredibly unambitious. We thought we'd release an album and that's as big as it ever gets," Dan admitted.
"We never imagined that things would go as they have gone here. We never thought we even had a shot at going to America. The first time we went there, I lost my voice and we had to stop the gig after three songs, and we thought, 'Wicked, we failed'."
Bastille revealed their next album will feature some of their inspirations.
"With the first album, we didn't care about genre at all so there was some stuff that was electronic, and other stuff that was epic and cinematic. With this next album, we want to wear our influences a lot more and so there's some R&B stuff there and some heavier rock stuff as well," Dan said.
"We're just messing around and having fun with it. Who knows what it will end up sounding like? But hopefully not terrible."
Kyle added: "We're writing. We've done quite a bit - I think we've done more than people think we have, but less than Dan says we have."
Source: music.uk.msn.com
Added automatically
929 views