News
Minaj in Malcolm X artwork apology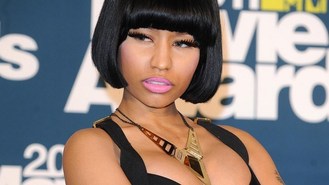 Nicki Minaj has apologised for using a famous photo of Malcolm X with a rifle in his hands and juxtaposing it with the N-word for her new song.
Minaj, 31, posted the photo, for her new song, Lookin Ass N***a, on her website and Instagram page on Wednesday.
But after she was criticised for what many saw as disrespect to a revered icon, she offered an apology on Instagram to the estate of Malcolm X, who was assassinated 49 years ago this month at 39.
She also said the song's artwork "is in no way to undermine his efforts and legacy".
"I apologise to the Malcolm X estate if the meaning of the photo was misconstrued. ... I have nothing but respect (and) adoration for u," she wrote.
Still, she sounded exasperated that people were even upset.
"Do you have a problem with me referring to the people Malcolm X was ready to pull his gun out on as Lookin Ass N***a?" she asked in her post. "I am in the video shooting (the song) and there happened to be an iconic photo of Malcolm X ready to do the same thing for what he believed in!!!!"
"Lookin" is a male-bashing song. The photo of Malcolm X holding the rifle was taken when he was trying to protect his family from death threats after his home had been firebombed.
A Change.org petition was launched, encouraging the rapper to change the cover artwork.
Minaj's personal representative declined to comment and a representative for her record labels, Republic and Cash Money Records, did not return emails seeking comment.
The picture was deleted from Minaj's Instagram account but was still on her website on Thursday night.
Source: music.uk.msn.com
Added automatically
1069 views